2475 Crescent Ave
Eugene, OR 97408
Email QPSRAPP

RAPP Support serves as a before and after support and educational system for the Quaker Parakeet Society Rescue and Placement Program (QPSRAPP).
As a RAPP bird is placed, the adopting volunteer will be asked if they would like to be assigned a RAPP Support mentor. The mentor will help, via email, with any problems that may arise with their newly adopted Quaker.
At times, people who contact RAPP are not sure that they truly want to give up their Quaker. Sometimes they are simply having a difficult time adjusting to the ways and needs of their Quaker. After years of being a "perfect" bird, some Quakers can develop habits which can be confusing to the owner, such as cage territorialism and hormonal swings. A RAPP Support mentor can be helpful and supportive at this time. Although our job as RAPP volunteers is to place a bird who cannot stay in its present home for whatever reason, our most important job is to do what is best for the bird referred to RAPP. Often times, it is to help keep that bird healthy and happy with the people that he or she loves and is familiar with.


Founded in 1999 by QPS, QPSRAPP is dedicated to the rescue and placement of Quaker Parakeets upon the request of people who can no longer keep them for a variety of reasons.
As part of QPS, RAPP is a 501(c), non-profit program, overseen by a small committee and consisting of over 200 volunteers from across the US and Canada. Volunteers can be called upon to transport, foster or adopt. Volunteers are encouraged to assist the committee in decision making, fundraising and educational aspects of RAPP.
QPSRAPP birds are placed with RAPP volunteers at the request of their relinquishing owners only. RAPP does not purchase birds from pet stores, breeders, or from private individuals. No fee is charged to place or adopt a RAPP bird. A RAPP bird will not be placed in a breeding situation unless the relinquishing owner specifically expresses that request.
RAPP understands how difficult and emotional a decision it is to give up a Quaker. Relinquishing owners who ask RAPP to assist in finding their Quaker a new home are put directly in contact with adopting volunteers so that the relinquishing owner ultimately decides the volunteer best to adopt their bird.
QPSRAPP is dedicated to educating its volunteers and the public about Quaker Parakeets. Adoption tips, a complete state by state veterinary listing, articles on plucking, and much more information, compiled by volunteers, is available to all who visit through the RAPP Support Program.


Before volunteering, please read BEFORE YOU VOLUNTEER.
Also note that all applicants are required to complete the RAPP Support Volunteer Training Course before volunteer Status is rewarded.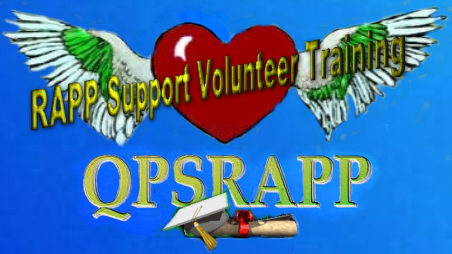 APPLICANTS TAKING VOLUNTEER TRAINING COURSE- click on the training logo





Not everyone can donate time to QPSRAPP by volunteering to adopt, transport, or foster. QPSRAPP understands this. Monetary donations, no matter how small, can make all the difference to Quakers who need placement in new homes. Please visit PENNIES FOR PLACEMENT to lean how you can help.