Proceeds of all items support QPS and its projects that make life better for Quakers everywhere; in the home and in the wild.


Flipping out about what to cook for your bird today? You need the new RECIPES FOR THE BIRDS, QPS' 72 page cookbook, compiled specifically with your bird's health and enjoyment in mind. A great gift for health consciencious avian owning friends too!
NOTE CARDS
The assortment is a set of 10 4 1/4" by 5 1/2 inch note cards with envelopes that feature Quakers in everyday poses as well as dress up day. Two each of five different designs.




QPS LAPEL PIN
This unique pin was designed and created in the USA especially for QPS.
Can't take your Quaker everywhere you go? Then wear a QPS lapel pin!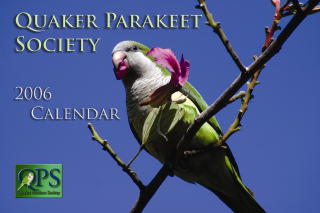 QPS 2023 CALENDAR
The Quaker Parakeet Society 2023 calendar is on sale NOW! Each month has the fantastic high quality Quaker photos. Every month has a tip on how to make your Quaker's life safer, healthier, and more fun.
Each label measurers 1" x 2 5/8" in size. Each label order consists of 4 sheets for $6 shipping included! Choose BLUE Quaker personalized labels, or GREEN Quaker personalized labels.
Rather order QPS items with check or money order? Click HERE for the printable mail order form.